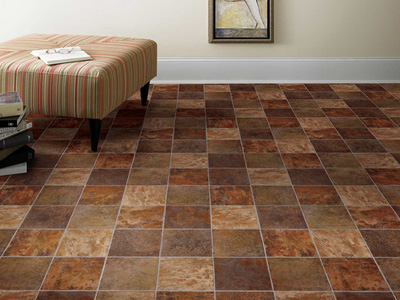 Vinyl flooring comes in either tile or sheet form. One of the least expensive and most popular forms of flooring, it offers great value.
Available in a wide range of colors, designs, and styles, vinyl tiles are easy to cut and install by the average do-it-yourselfer.
Sheet vinyl, on the other hand, can be more challenging to install, and therefore ideally should be dealt with by a seasoned professional for the best results. It also involves a technique known as seam welding which requires specialized equipment to get the best finish.
Of course, before choosing vinyl for your floor's surface, you should carefully weigh the product's pros and cons to ensure you're getting exactly the type of floor you're expecting.
Pros of Vinyl Flooring
Vinyl flooring provides a slightly softer surface than options like tile or wood because a compound that provides the soft texture feeling backs the product.
Vinyl tiles are available in a huge assortment of colors and styles, with some designs even mimicking the look of stone tiles or wood planks. While you can notice the difference up close, it can be hard to tell from afar the floor is vinyl.
Vinyl also wears incredibly well. It is extremely durable. A well-installed and properly maintained vinyl floor can last for well over 20 years.
Vinyl flooring is very resistant to dirt and water, and it's one of the few flooring types that can be installed directly over the subfloor—or over a previous vinyl or linoleum installation—without requiring demolition first. It is also one of the best choices for installing on a floor with a lot of cracks or excessive movement.
As far as cleaning and maintenance go, vinyl is hard to beat. Requiring practically no maintenance after installation, vinyl needs to just be swept and mopped occasionally to keep the floor clean.
Cons of Vinyl Flooring
While vinyl tiles are very easy to install on one's own, getting the subfloor ready for installation can prove to be a difficult job. In order for the tiles to look their best, the subfloor needs to be free of all particles—or they may show through the tiles in bumps and lumps.
Vinyl flooring can sometimes be challenging to remove once it is installed.